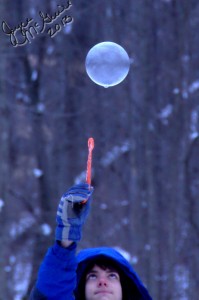 This morning we went outside to take pictures of Ice Bubbles. To make them you need bubble mixture, wands, a VERY cold day, very warm clothes (don't forget mittens and hats!) and, of course, a camera!
Go outside when the temperature is below freezing and blow some bubbles. Try to catch them on the wand or just let them float away. As you watch them they will start to get "foggy". If they pop when they get like that, they will look like plastic wrap that has been crumpled up and is floating away…..

Or, you can make them land on something cold. If it works–it takes some practice–you can watch them freeze.  Then after they are frozen, to make them even neater, poke them with your bubble wand.  There will be a hole in the bubble, but the bubble will still be there.