On our trip to Canada to visit cousins and go to a wedding we went to Tim Hortons.  It is a donut shop. We went there because I said I remember the snow and the donuts from last time we went to Canada (almost 3 years ago). We got kinds of donuts I never remember having before. They were good, especially the maple flavored ones.
Megan liked the cream filled ones and the ones with frosting–which was just about all she ate! Andrea and I liked the maple and the honey ones the best.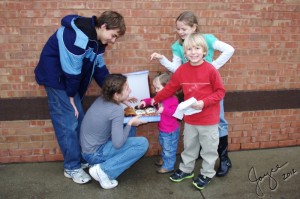 Daddy, Momma and Adrian liked the maple ones best.